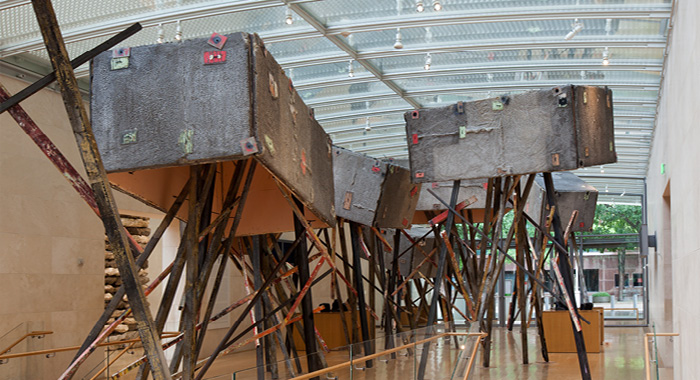 tryst
/trist/ noun
1. A private rendezvous between lovers.
2. A designated meeting place (14th century English).
British sculptor Phyllida Barlow has a new commissioned work at the Nasher entitled Tryst, on view until August 30th, 2015.
A 'tryst' is a private rendezvous between lovers or a designated meeting place (14th century English). So the title of the show is flexible depending on your mood. Tryst is a monumental installation work that (intentionally) overfills the Nasher's rooms for you to walk through and ask yourself why.
Tryst is a youthful exhibit (created by Barlow, born 1944), an installation exhibit bordering on performance art. Rather than attempt to intellectualize it, categorize it, and put the boxes on stilts in a traditional box, you should just enjoy it and laugh. This is (I think) the intent of the former art professor – to create fun, childlike installation pieces to walk through, and then give materials to the kids (and adult kids) to have their hand at creating their own installation work.
Barlow employs commonplace materials—wood, plaster, concrete, cardboard, and strips of colorful cloth or tape—in extraordinary, monumental, ramshackle, hand-built structures that expound a dizzying array of novel sculptural forms. Towering, bulky accumulations of matter "elbow their way into the room," as the artist puts it, filling the space and looming over viewers. Recent projects at the Tate Britain in London and the New Museum in New York have showcased the prodigious talents of Barlow, who, after a distinguished teaching career at the Slade School of Art in London, is finally enjoying the broad international recognition her work has long deserved.
"From her use of found materials in the tradition of assemblage to her progressive, imaginative and uncanny use of exhibition spaces, Barlow riotously but cheerfully challenges our expectations on both what a sculptural object can look like and the way sculpture might inhabit a museum setting," says Director Jeremy Strick. "We are thrilled to have this remarkable talent occupy and contend with the pristine spaces of the Nasher with her material wit and ingenuity."
Barlow's exhibition at the Nasher, selected as one of the most anticipated "Best in Show" exhibitions of 2015 by Modern Painters magazine, was organized by the Nasher's Chief Curator Jed Morse and will feature all new works inspired by and created for the unique spaces of its galleries. Like several of Barlow's recent projects, these new works will challenge accepted notions of sculpture, blurring the line between constructed form (sculpture) and constructed environment (architecture), providing a powerful counterpoint to the refined surroundings of the Nasher's Renzo Piano-designed building. "In a prestigious building designed specifically for sculpture," says Barlow, "my aim is to make an exhibition which has the potential to argue against its powerful aesthetic and formal character."
Tryst
Nasher Sculpture Center
Through August 30th