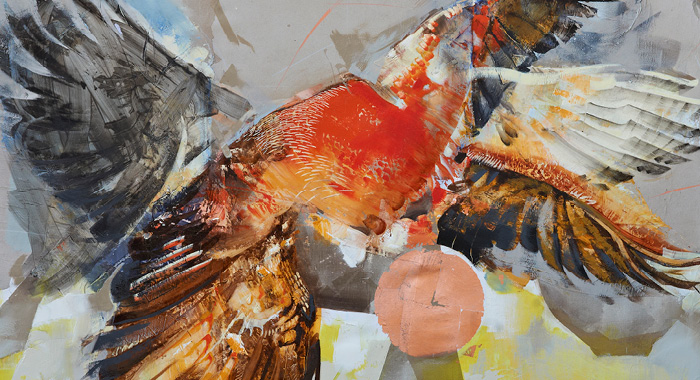 Story by David Hall
I was excited to get Lamberto's feedback as he is much more well versed in the visual arts than I am. It's always refreshing to get an expert perspective on a medium (I speak music). The Art Fair is a great experience. Locally, we are used to seeing works directly from artists themselves at Art in The Square (which we'll highlight next month). With the Dallas Art Fair, you have galleries that have sifted through more artists than we have at our festival, selected their best works, and then brought them to the fair for display.
I'm a veteran of the Dallas Art Fair, if you will, and there aren't many exhibits that come through town that I don't see. I've had the opportunity to see many works of art, and usually within the first glance of a piece I decide instantly my opinion of it, just a natural reaction.
Last year we highlighted the Joseph Raffael watercolor from the Nancy Hoffman Gallery in NYC. Interestingly enough, a buyer from London read Southlake Arts review of the piece and reached out to us last month to ask if we thought he should buy it (this particular piece cost $125,000.00 USD).
This year there were several things that stood out but two that captivated me.
The first one I almost missed (it's a lot of work seeing 90 world class dealers). Luckily, at the preview Gala was Andrew Clugston (Financial Advisor – Morgan Stanley, Violinist – White's Chapel Orchestra). He insisted that I see these photographs that he was mesmerized with. And as you can see, he was right to be!
This photograph (above) is by Yves Marchand & Romain Meffre, two young French photographers who have a shared interest in ruins. It's on display at the Tristan Hoare gallery in London (and has sold).
www.tristanhoare.co.uk
"During our visits to ruins, we always try to focus on remarkable buildings, whose architecture embody the psychology of an age and a system, and we observe the metamorphosis of the process of decay."
Over the past twelve years Marchand and Meffre have developed a rigorous approach to their work which has produced staggering results. Shooting with a large format, custom-made camera, taking advantage of natural light and using long exposures, the images embody the unique atmosphere of each location. Their photographs retain a formal quality and are conceived as a document, giving the viewer a glimpse of a building's former glory. "Ruins are the visible symbols and landmarks of our societies and their changes, small pieces of history in suspension"
The second piece that stood out to me came from Eiseman's artful display of contemporary jewelry. Glimmering in the light was a beautiful opal and spinel cuff by SUTRA.
This SUTRA cuff features nearly 28 carats of Ethiopian white opal to create the center flower, surrounded in a halo of 8 carats of pink spinel, which sits atop nearly 20 carats of brilliant and brown rose cut diamonds.
"Designer Arpita Navlakha often pairs old world romance of antique cuts with contemporary style stones to create a modern day high-fashion appeal".
I'm a new fan of SUTRA (based in Houston, started in 2008). You might have seen their jewelry worn by celebrities like First Lady Michelle Obama, Katy Perry, Halle Berry, Rihanna, Taylor Swift, Kate Beckinsale, Kim Kardashian and Mila Kunis to name a few.
Go visit Eiseman at Northpark and try it on for yourself!