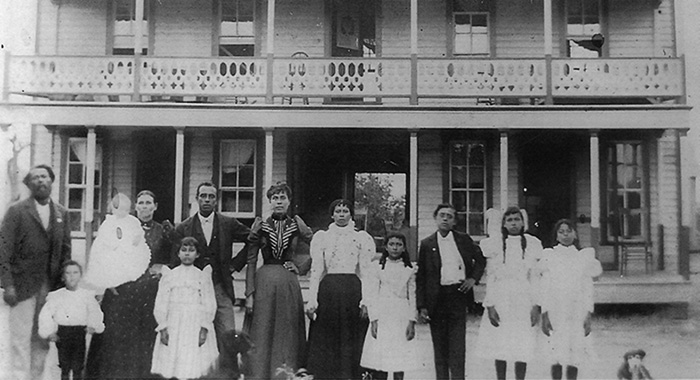 Part 1 – 1850 to 1900
by Connie Cooley and Anita Robeson, members of the Southlake Historical Society
Bob Jones Park. Bob Jones Nature Center. Who is Bob Jones?
The story of Bob and his wife Almeada "Meady" Jones, who each had a white father and an enslaved mother, has been part of the history of what's now Southlake, Roanoke and Denton for nearly 160 years.
In 1850, John Dolford "Bob" Jones was born in Arkansas to a businessman who bred racehorses, Leazer Alvis Jones, and a slave, Elizabeth "Lizzie." In the late 1850s, Leazer left his white wife and four children in Arkansas to move to Texas with Lizzie and their sons Bob and Jim (the couple later had two daughters), settling on a 60-acre farm east of Roanoke. Bob and Jim worked the farm as sheepherders.
About 1861, their father freed them before returning to his white family. In an interview many years later, Eugie Jones Thomas, one of Bob and Meady's daughters, recalled her father's story: "Bob stayed in a small house and herded a few sheep as a means of livelihood. He obtained 50 acres of bottomland on which he began a farming and livestock business. Living alone in the Medlin community [now Trophy Club] left a lot to be desired."
"A friend of Bob's suggested they go to Bonham," she continued, "a place noted for pretty girls and lively Saturday night dances. Riding horseback, Bob and his friend arrived in time for the big Saturday night dance." That's where he met Meady Chisum, who along with her mother, sister and brother, had been purchased during slavery times by legendary cattleman John Chisum. Meady thought of Chisum as her father.
Bob made another trip to Bonham and asked Meady to come to his farm for a visit. She agreed, but only if he brought his sister to escort them. Bob returned in a two-horse wagon with his sister Georgia Ann, and Meady visited the farm and met Bob's mother and other family members. When Bob made the third trip to Bonham, in 1875, they were married in the home of Meady's sister, Harriet. They returned to Bob's farm and began their married life in his log cabin.
Bob and Meady had 10 children: sons Jim, June, Jinks and Emory; and daughters Alice, Virgie, Eugie, Emma, Artie and Hattie. The family soon outgrew their log house and around 1822 built a "new house on the hill," Meady recalled years later (near present-day Bob Jones Nature Center). When the two-story house was finished, it had a main room with a fireplace, four or five bedrooms, a dining room, a kitchen, a balcony and porches all around. In the late 1940s, when Meady and her daughter Eugie were living there, the house burned. Today there's little that marks the site.
Over the years, Bob Jones prospered (owning as many as 2,000 acres) and had both white and black tenant farmers. Friends remembered his loaning money to both black and white families, working with them to make sure the families did well.
For many years Bob Jones and his descendants hosted an end-of-harvest picnic that became a tradition into the 1960s. Neighbors happily anticipated the barbecue, children's games, adult baseball games and carnival rides. People brought their musical instruments and played while others danced.
When Bob Jones died in 1936, 500 people attended his funeral in Roanoke, proof that he was well liked and respected. He, his wife (who died in 1949) and his mother (who died in 1877) are buried in what was then called the "colored" section of Medlin Cemetery in Trophy Club.
To read more about the Jones family and view more pictures, see southlakehistory.org. Click on "History of Southlake," then "Bob Jones."
Next up, Part 2 of the Bob Jones story: Bob Jones had to make some decisions when it came time to educate his children and grandchildren in a segregated society. Jones family descendants took on the U.S. Army Corps of Engineers in the 1940s when the Denton Creek bottomlands were claimed through eminent domain for the construction of Lake Grapevine.