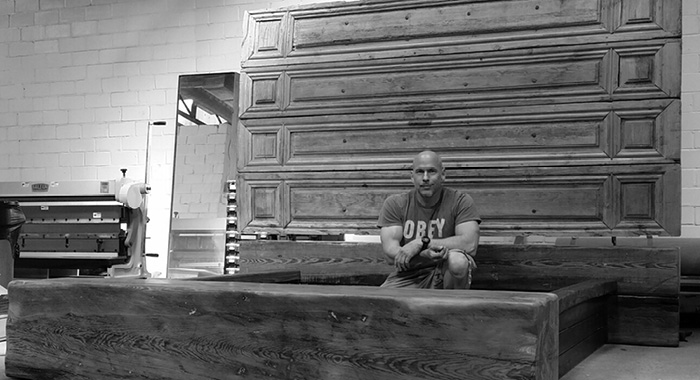 The piece started with Kenneth Crain's trip to Griffin Trading in the design district. Operated by Stephen Hansrote, Griffin is a great place to find things you never knew you were looking for. Stephen had just acquired the shutters from a dealer in the south, who in the years following Hurricane Katrina, had discovered some interesting finds sifting through salvaged architecturals.
Kenneth says, "Stephen called me one day and said 'Kenneth, you have to see these things, they are huge! I have no idea what to do with them, but they are right up your alley.' I seem to have built a reputation here in the Design District for working with oversized stuff. The shutters sat in my studio for almost a year before I decided to make them into a headboard. At one point I talked myself out of it; 'just too big,' I thought. Finally, I went digital and rendered a 3D model of what the bed might be. Once I saw it, I was hooked.
Designing in a CAD system and building it in the real world are two entirely different propositions. Given the weight, I designed 6-foot-tall steel supports with an elegant sweep toward the back, cut out of half-inch steel plate. I then carried the same radius to a gentle sweep on the side rails to give it some continuity. The bed itself is rectangular steel, capped on both sides with reclaimed beams. Much attention was given to the footboard, a solid 16-inch 150-year-old reclaimed timber from an historic building in the stockyards of Fort Worth, Texas.
The finished headboard is 112 inches wide and stands 86 inches tall. The bed extends 106 inches from the wall, and the 16-inch beam at the foot of the bed is 90 inches long. Together, the bed weighs approximately 1,300 lbs."
---
Studio 217 is a design studio located in the Design District of Dallas. The company was founded in 2012 with a desire to use reclaimed, new and upcycled materials to create beautiful furniture, lighting, sculptures and architecturals. If you are lucky enough to get a 'backstage tour' of the studio, you will see a giant 12,000-square-foot facility with beautiful reclaimed wood from all over the world piled almost to the ceiling. For someone that appreciates bringing old-world back to life, it's like being a kid in a candy shop.
www.studio217.com