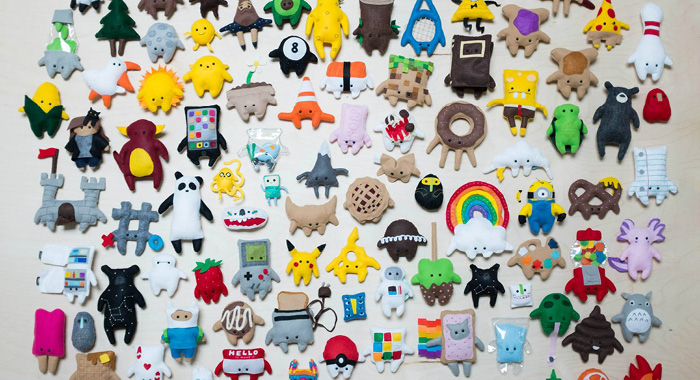 Earlier this year I saw the Pokémon felt dude pop up on Becky Margraf's (2009 CISD graduate) Instagram feed and I instinctively clicked like. The next day, an avocado popped up on my feed, and before I knew it I was seeing felt dudes pop up daily. I instantly knew I'd have to share it with you, because obviously your kids/grandkids will love them (and you will, too).
While in high school, Becky had a large passion for music (guitar, piano and voice) and was an excellent student (I know because I taught her). That passion was slowly overtaken with a growing interest in design. She was always interested in art as a kid, but after joining the school newspaper staff she found herself drawn to visual design more than journalism. She worked as the design editor for two years before studying Graphic Design at the Massachusetts College of Art & Design (MassArt) in Boston and graduating with a BFA in Graphic Design in 2013. Currently, she is in San Francisco where she works at a company called DIY.org, which is an educational website/app that provides resources and a community to help kids (aged 6-16) teach themselves new skills. She manages the community (hundreds of thousands of kids based all around the world), oversees the moderation on the platform, and writes the new skills that kids can earn. She also does freelance design work.
I had some questions for the globetrotting Dragon alumna and she gave me answers!
Felt dudes – How did this come about?
The felt beasts were created as my contribution to a larger concept started by artist Elle Luna and The Great Discontent called The 100 Day Project. (thegreatdiscontent.com/100days/) The project encouraged artists/makers/people to pick a technique or process that they liked or wanted to improve on, then do that thing every single day for 100 days in a row. It's meant to be a creative meditation on the process of making something rather than trying to create something "good." I chose sewing because it's something that I really enjoy doing but never felt like I had time to do. I thought it'd be an interesting challenge to force myself to do it every day. (In hindsight, I would have picked something that took a little less time.)
Most of my ideas came from my sketchbook. I kept it with me at all times during the project, and any time I thought of an animal or saw an inanimate object that I thought would be fun to recreate, I doodled it into a little personified creature that I'd later use as a guide to cut the felt and sew the thing. A lot of my friends on Facebook and the kids on DIY suggested or drew out ideas and I used some of those, too.
Which of your felt dudes are you most proud of?
Each one was like a little daily marathon, so it's hard to choose! I liked all of the ones that were more complicated or experimental, especially when they came out the way I had hoped. I made a Game Boy with a red LED power light stitched in using conductive thread that actually turned on and off, which I was proud of. I also really liked the book, which had covers and actual felt pages inside.
Which of your felt dudes have people wanted the most?
Ursa Major has generally been the most popular. I think the waffle with the syrup-and-butter-pat hat has sold the best on Etsy, though.
How many different felt dudes have you made?
Well, 100. Since the project ended, I've made about 30 more, mostly duplicates of the originals for Etsy orders or improvements on the originals. Lately I've been experimenting with making much bigger versions of the creatures and more original/weird monster designs.
Who is your favorite designer?
Kelli Anderson. (kellianderson.com) She's a brilliant visual designer who experiments with paper in really amazing ways. I've always been a huge fan of cut-paper illustration and paper engineering, but because the design world is primarily digital these days, those things have fallen to the wayside. It's awesome to know that there are still designers out there who are interested in pushing the boundaries of materials that we take for granted or totally ignore. I highly recommend checking out the paper record player that she designed for a wedding invitation and her stop-motion cut-paper projects (there are many—visualizations of the human body, talking silhouettes, an entire forest of plants and animals).
What is your favorite color?
Grey. Is that boring? Chartreuse (a pretty yellowish-green color).
Where are you happiest?
Currently, it's just wherever I'm making something. I've been sewing felt creatures everywhere I go, even on my morning bus commute. I definitely feel grumpy if I haven't made anything in a few days. It's either like a meditation or a drug, I'm not sure which.
Pokémon or Digimon?
Pokémon! All the way!
What are you currently reading?
Snow Crash by Neal Stephenson
What is the last thing you Googled?
"23EUR to USD" (Trying to buy a cool clock from an artist in Hungary!)
Where can people get your felt dudes?
feltbeasts.etsy.com
I also post pictures of all the projects I'm working on Instagram – instagram.com/bargraf