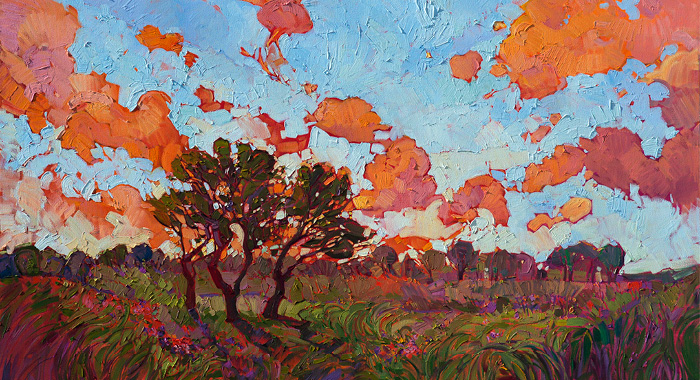 Born and raised on the West Coast, artist Erin Hanson, has brought her unique form of art to Southlake during the annual Art in the Square festivities in the community.
"Art in the Square is one of my favorite venues to sell my paintings. I love the late night show when the whole festival sparkles with light. I prepare for months for this show, creating some large-scale works and show-stoppers that I can't wait to share at the festival!" Hanson says.
Over the years, Hanson has developed a signature style labeled as Open Impressionism that she uses to paint oil landscapes on canvas.
According to a release from Hanson's publicist, "Her pictures are visually exciting, highly expressive and beautifully composed."
Using striking color choices and bold brushstrokes, Hanson's work has the ability to immediately captivate a viewer's attention.
"There is a glow that illuminates from her canvas," a release on Hanson says. "Broad, decisive swipes of paint, thickly applied, create a mosaic of color and texture on the canvas."
Hanson describes her inspiration for her art pieces and also why Open Impressionism is an important form of art to her.
"Open Impressionism catches the attention at once as being a new style of painting," Hanson says. "Each painting is more of an emotional work than a photographic representation."
From a very young age, Hanson has always had a thirst for the adventurous lifestyle. Growing up in a family of boy scouts, Hanson's favorite memories as a young girl are camping and backpacking in the gorgeous landscapes that surround California.
Hanson started to pursue her passion for painting as a child in elementary school, using an easel that was constructed by her father.
Hannah went on to flourish in her passion and eventually went on to becoming accepted into a special scholarship program at the Otis College of Art and Design.
Hanson eventually took a pause from the arts and pursued her fascination with the world of science and in 2003, graduated from UC Berkeley with a degree in Bioengineering. Hanson went on to reconnect with the world of the arts through her love of nature and adventure. Hanson immersed herself in the red rock of Nevada and explored the rugged terrain of the West.
"Rock climbing brought me back to my artistic roots, and my love for the outdoors is boldly expressed through my oils. Some might consider the desert to be drab and colorless, with white granite rocks and scraggly trees, but I love to capture the moments when early morning light peeks through and lights everything up with sherbets, lavenders and ice cream colors. I want others to experience the drama and excitement of the landscape like I do," Hanson says.
For more information on Hanson and where to find her featured work, visit her website at www.erinhanson.com.