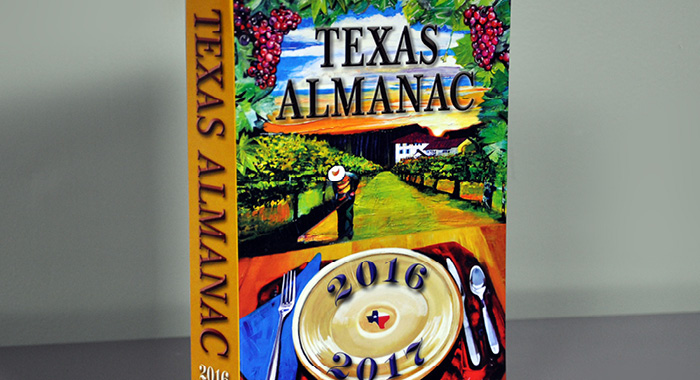 The design of a book cover, on top of the book itself, is a job that requires vision, planning, styling, typography, execution, and final preparation for production. It's a job for someone with extensive experience, dedication, and strict discipline in every aspect of publishing. It's a job that in most publishing companies would be done by a team of designers, art directors, writers, editors, and graphic artists. In the right atmosphere, that is what it takes to create a great book, especially a historic book — with much time and effort involved from a staff of professionals. However, in some cases, a book as complex as the Texas Almanac does not come with the luxury of a full staff. The message I would like to deliver is that as a journalist myself, I have seen the Texas Almanac develop and be transformed from a black-and-white book into a well-respected historical and visually stunning book. And it's all Texan!
Elizabeth Cruce Alvarez, editor of the Texas Almanac, is for the most part responsible for every phase of this extraordinary book, which was first published in 1857 and gives incredible information about "all things Texan." In its November issue, Texas Monthly covered the new edition — the Texas Almanac 2016–2017 — and in its headline called it the "Google of Texas," a monumental compliment.
Elizabeth, who also happens to be my wife, really surprises me, in many ways, as to the extent of her knowledge in publishing. Not only is she the final editor for content, she also has taken on the roles of designer, art director, photo researcher, stylist, writer, and content manager of this 752-page book, executed entirely in color, a decision she made in 2004. Elizabeth now offices in our Southlake home and has an office in Austin, as well, where the Texas State Historical Association now resides, after having been on the University of North Texas campus for more than 6 years. After moving her office to Southlake, I had the opportunity to see her perform her mammoth job right on deadline for the new edition. You see, I have had the privilege of creating the art for the covers of two editions — this new edition and the Texas Almanac 2012–2013, which showcased Willie Nelson. Both art pieces were paintings created on canvas.
The new edition has a wine and food theme, which the cover needed to reflect. When the decision was made that I would be illustrating the cover, Elizabeth began to dream about the vision. She drew a simple pencil sketch, about which, even today, we both chuckle over the accuracy of the sketch to the final cover design.
As an illustration director and senior illustrator for many powerful newspapers and publishing companies, I am used to working with sketches that are the "germ" of an idea. Without sketches, I can get the impression of an idea verbally, but a sketch always helps. Elizabeth, who at the time also had the job of setting up her office at home, including connecting to email, a remote server, a printer and scanner, etc., went through the process of styling a photo shoot for the Almanac's cover in our dining room, using the right plate, fork, spoon, knife, and napkin from her arsenal of tableware. I photographed the setting and, from her sketch, knew exactly what she was envisioning.
The book has just been released, and already it's getting great reviews everywhere it's seen. The book, which contains entertaining feature articles, along with much historical, geographical, and statistical information, is revised and completely re-designed every two years, the time necessary to acquire all this information. Not only does this edition included feature articles on Lone Star Cuisine and Texas Wine Country, Elizabeth also wrote a compelling article about Assault, the King Ranch thoroughbred who suffered a near-fatal hoof injury as a foal but went on to win the 1946 Triple Crown — the only Texas horse to achieve such a feat!
But writing a feature article is only a small part of her job. I have actually been caught saying that Elizabeth's job is like "rocket science" to me, and I consider myself a not-so-ignorant human being. Seriously, her job is incredibly complex. I still remember when she was hired as editor for the Texas Almanac in 2002. She was chosen from a field of more than 100 candidates, and then-editor, Mary Ramos, exclaimed that she was absolutely the "benchmark" for the position. She had years of experience in the newspaper and book publishing worlds, along with a keen artistic sense and creative drive to make things appealing. She keeps pushing the envelope and even as this new book is being touted as the most beautiful, colorful, and best of all, she is already dreaming of how to top this one with the next.
In the evening when we are strolling through the park, her eyes are constantly looking at the sky, the placement of the planets, and the scheduling of their placement. I, personally, have always been fascinated with astronomy because during my childhood, my father and I would lie on the hood of his car in the evening and watch the constellations, stars, and planets. It was an experience I will never forget. And now, as I do the same thing with my wife, she explains these nightly occurrences with a more educated eye and point of view, which amazes me to no end. You see, one of her jobs as Almanac editor is to calculate a two-year astronomical calendar for each edition. I wish my father could listen to her observations now, as he would have been just as fascinated. If you have ever listened to StarDate on the radio, well, I get that first hand, only better, and things make more sense to me now.
Elizabeth puts the Texas Almanac together to be a constant educational resource for students, academics, business people, travelers, and the media, who often depend on the content she gathers to accurately develop their stories. With the help of an associate editor, Robert Plocheck, the Texas Almanac has been transformed from a black-and-white publication in 2004 into a piece of art. Every page is engaging, and although inmates in prison don't have access to this great book (because of map detail and accuracy, the Almanac is banned as "escape paraphernalia"), everyone who has bought a copy of this book realizes it's a keeper. Some of my associates and friends are now trying to put together the entire collection — as far as they can go!
This practice of collaborating with Elizabeth to create the Almanac's cover has given me a glimpse into the publishing world again, and I appreciate the complexity involved in creating such a great reference book of information about Texas. So, enjoy and use the Texas Almanac as you travel throughout our state, finding new paths to your destinations and seeing the state from a different perspective. Enjoy the book, which, through every edition Elizabeth has created, turned into a work of art and love. The late hours of work and all the sweat and tears and effort have proven to be worth it. Happy New Year to everyone!
Lamberto™