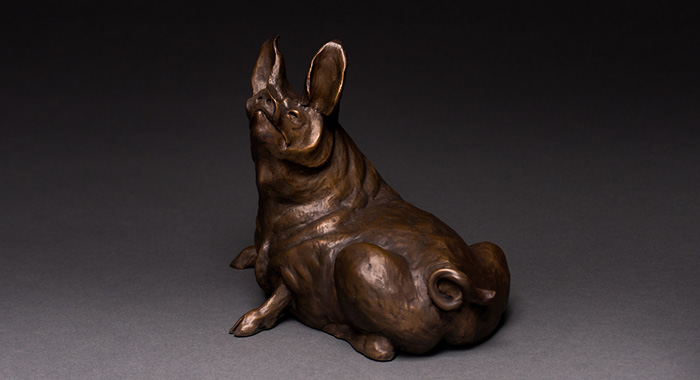 story by Rich Romero
Southlake sculptor Bill Kennedy has artistic experience as detailed as some of his bronze and woodwork pieces.
Kennedy, 68, grew up on the Chesapeake Bay in Maryland and has been involved with woodwork and art since the age of 12.
"My dad was president of a huge rod and gun club that had a rig of about 3,000 decoys that the members would use. He knew that I was producing art already that was hanging in people's homes. He said "I'd like for you to try to make heads for some of the decoys." The heads would get broken off and wooden decoys were heavily used," Kennedy says.
A couple of days after the original request his father walked by the workbench where he had been working and the heads were prepared for practice.
"He said 'Okay, if you can make heads, you can make a decoy,'" Kennedy says with a chuckle.
"In short order I was making whole decoys on my own which then extended into decorative pieces in flying and hanging poses."
According to Kennedy, he has carved exotic pieces of animals from Elk, Wolves, Ducks and Bears.
Kennedy is well known nationwide for his woodwork and fountain carvings. However, the artist says his recent years were what brought him into the world of clay and bronze pieces.
Kennedy says a shoulder injury was actually what brought him into the bronzing aspect of his craft.
"I had always been interested in working with clay and producing bronzes. About a year and a half ago, I tore a rotator cuff in my right arm. The surgeon was telling me 'The woodwork you do is beautiful, but have you considered clay which won't do so much wear and tear on your shoulder."
Kennedy told the surgeon that he had been interested in delving into that medium for some time. He was suggested to start practicing the art during rehabilitation for his rotator cuff.
"I got started and really enjoyed it," he says.
The first piece that Kennedy had formed through clay and bronzing was a model of a jack rabbit.
"The folks at the foundry – when I walked in with the first couple of clay pieces to turn them into bronze – said 'Yeah right, you're telling us these are your first ones?' as in with a smile," Kennedy remembers.
Kennedy has won national competitions over time but believes in sharing the artistic wealth in the community.
"Now I don't compete so much anymore because it's just a question of how many ribbons you want to win," Kennedy says.
"I've had a lot of success at the Ward Foundation show in Maryland which is the world championship for wildfowl carving. I've won a bunch of stuff there and virtually every meaningful show across the country, I've won."
During the conversation with Kennedy, the artist spoke of some of his more challenging pieces he has produced in the past.
"I just did a piece that had seven Labrador Ducks in it, and Labrador Ducks have been extinct since 1875. I just did a major piece which had a couple of Labradors on the water and five more flying…I did it in kind of an Audubon look," Kennedy says.
According to Kennedy, Audubon painted his birds in awkward positions like they were flying downward too sharply.
"If you could plug it in and turn it on, the birds would crash. It's still in various, interesting positions. It was very successful; as a matter of fact, it will be featured in a magazine this summer."
Kennedy says that although this piece was woodwork, it was still very challenging.
"On challenging pieces in clay, I'm having a bit of a challenge. Right now I'm doing two elk that are laying down. It's a challenge to get an animal like that correct. I'm finding them to be a challenging piece to complete, but it looks like to me they are going to turn out pretty well," Kennedy says.
Kennedy is featured in galleries in Jackson Hole, Wyoming and Dallas and plans to spread out more to other galleries.
"I'll probably soon be in a couple down in Frederiksberg and another one in Scottsdale, AZ."
Kennedy says so far the response to his art has been very good and he has been "knocked out" by the warm reception.
Kennedy says locals and visitors eager to see his bronze pieces can visit Collector's Covey in downtown Dallas or can give him a call where the artist says guests are welcome to stop by his house.
To contact Kennedy for a viewing of his art or to have a piece commissioned, contact him at wbkennedy@verizon.net or call him at 214-704-5209.