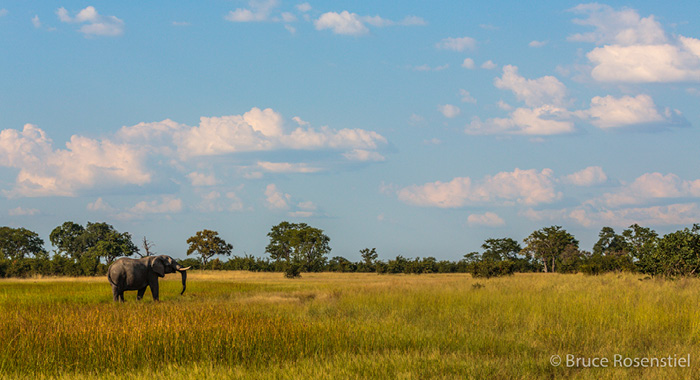 "Bruce, would you be interested in leading photography tours in Africa?"
Not a question I ever imagined to hear. But, when former photography student Sally Szekely invited me to consider the possibility, it only took me about two seconds to accept! Turning the dream into a reality was a bigger challenge than we thought, though. Over the next several months, including a two-week familiarization trip to Zimbabwe, we worked with Sally's friends at Sikeleli Safaris to create and refine small-group itineraries that would appeal to general visitors interested in quality wildlife viewing as well as avid photographers. We wanted to ensure ample wildlife opportunities as well as attractive and diverse landscapes, and we were determined to offer our travelers unique experiences by getting away from the beaten path.
The fruits of our labors are two fantastic itineraries to some of the best locations in Zimbabwe at very competitive pricing. We offer the flexibility of small-group travel, which allows us to make the most of every opportunity. Expert local guides share their knowledge about the wildlife and ecology of each area we visit. I offer individualized instruction to help you hone your skills and get the best photos possible. We stay in intimate, exclusive lodges; savor gourmet meals; and are spoiled beyond belief by the extraordinary hospitality of our Zimbabwean hosts.
Travel in Africa has had a significant and surprising impact on my life. My wife and I went to Kenya and Tanzania in 1987 and were as enthralled by the birds as by the mammals. Bird watching and nature became lifelong interests and the focus of many a vacation destination since that initial safari. Friends and family would scratch their heads and ask: You're going where? To see and do what?! In an attempt to share our experiences I took my first photographs by connecting a camera to my birding scope on our second trip to Africa in 1998…and discovered a passion for photography that has led to a second career and added yet another dimension to our travels.
Sandi and I have visited more than 50 countries over the years, returning many times to favorite locations. So, you might ask, what makes an African safari so special that we return again and again? There is simply nothing like it! You wake up to the dawn chorus of birds, sip a quick cup of coffee or tea and nibble biscuits while keeping an eye on any activity at the local water hole, and then head out on the first excursion of the day: a game drive, a boat trip, a guided walk – or maybe all three. Every outing has its own set of experiences. Nothing is predictable. You never know what you might see or what sort of encounters you might have. It's absolutely exhilarating! You're meandering along, admiring this and that, go around a bend and suddenly a group of elephant emerge from the trees…or you come upon a herd of giraffe…or zebra…or gazelle. Warthogs scamper across the track. Birds swoop and call; some perch and pose. Your keen-eyed guide spots a leopard or lion in the distance and slowly drives to the ideal viewing angle. There is no rushing about. There is no rigid schedule. There are, however, tea and coffee breaks, always featuring some tasty accompaniment. A picnic may have been packed so you can explore a more remote area or you may return to camp for a sumptuous lunch followed by an afternoon excursion…and then you'll enjoy sundowners from a beautiful vantage point. Dinner is splendid and, if you can keep your eyes open, you'll be dazzled by the brilliant night skies…or you might opt for a short excursion to look for nocturnal species. Finally, you tuck yourself in, somewhat astonished by how much you have already seen and done, and know that the next day will bring its own set of new adventures.
To find out more about these trips, contact Bruce Rosenstiel at bruce@smallworldphotos.net, Sally Szekely at sally@sikelelisafaris.com, or visit Bruce's website at http://www.smallworldphotos.net/Africa-Safaris.