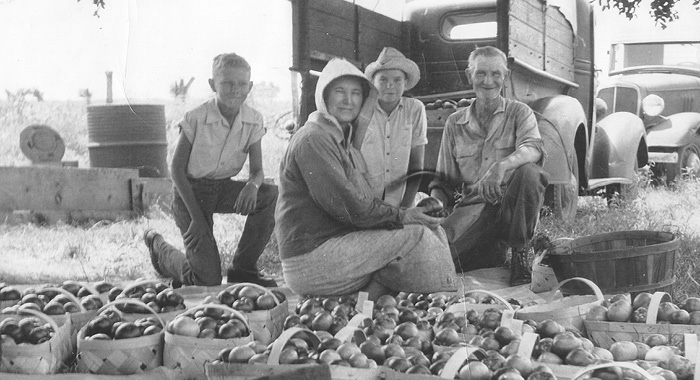 By the Southlake Historical Society
If you look to buildings to give you clues about history, Southlake will disappoint you. Only a few old ones remain.
But take a closer look and you'll find a rich history of people and events that define Southlake and give it "a sense of place." That's what Gary Fickes, at one time Southlake's mayor and now a Tarrant County commissioner, knew when he put an ad in the Grapevine Sun in 1992 asking people interested in Southlake history to come together. Fickes, who knows the value of history, has described the story of Southlake as "a perfect slice of Americana."
The first members of what would become the Southlake Historical Society were relative newcomers, some having arrived in the 1970s. In 1992, there were still plenty of descendants in town from "old" families with names like McPherson, Tate, Cate, Tanner and Shivers, but the little town was changing.
Southlake's story began long ago when Native Americans, then the Spanish, wandered the Cross Timbers (a special ecosystem in which Southlake is located). In the 1840s, white settlers arrived to take advantage of land deals. While Denton, Grapevine, Birdville and others turned into towns, what's now Southlake remained "the area west of Grapevine" with rural farming communities, each centered on a school, a church and perhaps a general store or blacksmith shop. (Southlake wasn't founded until 1956.)
The new historical society had those stories to tell along with these: murders by Bonnie and Clyde; a mixed-race family that prospered as the largest landowners in the area and ran a successful livestock auction barn and café – possibly the first integrated diner in Texas; a modest brick school built by poor farmers that became the foundation of the celebrated Carroll ISD; the Lonesome Dove Baptist Church and other pioneer churches and cemeteries; a dog race park; stills; a horseshoeing school; private grass airstrips; and the beginnings of a now-prosperous city.
The society's goal has always been to promote the preservation, understanding and appreciation of Southlake history. Early projects included inventorying old houses, outbuildings and businesses (many, from the early 20th century, have since been demolished); collecting oral histories; and safeguarding historical papers and artifacts.
In 1997, society members disassembled a log barn in what's now Town Square and a log house near what's now Central Market, and stored the logs. The neighboring McPherson-Fechtel farmhouse (built in 1919 on several hundred acres where Town Square sits today) needed to be moved as Cooper-Stebbins made way for construction. The society hoped the city and other interested parties would fund relocating the historic building to save it, but time ran out: the Fechtel farmhouse was burned as part of a Southlake Fire Department controlled-burn exercise. That soured things for many and the society dismantled.
In 2002, Lou Ann Heath, a Southlake resident with a deep love of history, revived the group. With the help of other citizens including Fickes and Brad Bradley, who drew up the corporation papers and filed the required forms for the revitalized 501(c)(3), Heath kept the society's focus on gathering Southlake history through photographs and oral histories. Longtime residents with deep roots in the area including Jeroll Shivers, R.E. Smith, Jack Wiesman and Jack Cook joined the group and helped to document Southlake's past as they remembered it.
"There was a lot of development going on," Heath explained. "Folks kept finding old timbers and the remains of log structures on tracts of land up for sale. And the concern was that things were going away. We didn't have a downtown like Grapevine, so I was most interested in trying to get any kind of photographic evidence."
In 2007, Southlake resident Anita Robeson stepped up as president and served for six years. "We presented programs on everything," she recalled, "from the history of Lake Grapevine and how it affected the growth of Southlake, to Quanah and Cynthia Ann Parker. Interestingly, a woman who was at Parker's Fort when Cynthia Ann was captured is buried at Lonesome Dove Cemetery."
Members worked to preserve the 1919 Carroll School, located on its original site at 1055 N. Carroll Avenue. "While its fate is unknown," Robeson said, "it still stands – a brick-and-mortar lesson about the people who founded Southlake and the beginnings of our Carroll schools." In 2008, city leaders agreed to put the rescued logs to good use and authorized the construction of a log house in Bicentennial Park.
The society won the National Historic Preservation Award from the Captain Molly Corbin Chapter of the DAR, Grapevine and the Albert B. Corey Award from the American Association for State and Local History for the "vigor, scholarship and imagination" displayed in its website, www.southlakehistory.org, described by a UNT professor as the best of its kind in the county. "We filled our website with Southlake's intriguing stories and photographs," Robeson explained.
Two years ago, three new board members were asked to join. Secretary Rebecca Utley is a fifth-generation Southlake citizen. Her great-great-great grandfather settled in the Dove community after the Civil War. Her great-great grandfather was one of the three original 1919 Carroll School trustees. Her great-grandfather attended Carroll School, and her father, Jeroll, was an ardent protector of Southlake history. Many Southlake citizens know SHS vice president of programs Tamara McMillan and vice president of membership Emily Galpin, who both energetically serve on numerous area boards and head up a new non-profit organization, Nature Reach. In 2013, Connie Cooley became the society president. She wrote Images of America: Southlake in 2010 and recently completed Images of Sports: Southlake Carroll Dragon Football, due out in November.
The society's upcoming programs include a city art exhibit, A Walk through Time: Historical Photographs of Southlake, sponsored by the Southlake Arts Council and Apex. The exhibit opens on Thursday, September 10 in the lobby of Southlake Town Hall and will remain until October 23, 2015.
Pioneer women, preachers, horse thieves, cowboys and Civil War veterans come to life on Saturday, October 17 at 7 p.m. at the society's second annual Cemetery Tour. The event begins in Lonesome Dove Cemetery, one of Tarrant County's oldest cemeteries, 2380 Lonesome Dove Road, and moves to the historic Hood Cemetery located in the Coventry Manor subdivision, Peytonville Road at Coventry Lane. Check www.southlakehistory.org for more information including cemetery tour tickets.
"As much as we love presenting programs," Cooley emphasizes, "we try to never lose sight of what those original members set out to do: preserve what they saw as being lost. The only historic public building our city has ever had, Carroll School, needs protecting. That little brick building is the birthplace Southlake and our schools. There may have been a time when citizens didn't appreciate its history. Perhaps it was too familiar, or too modest or too unattractive. But folks today understand that every great city in the world protects its history. Southlake is no different."